…..from a year when 10 aren't enough. 2012 was one of the strongest years in cinema I've ever experienced. Here's a look at the highs of 2012.
1. DJANGO UNCHAINED
My criteria for picking the #1 film has always been that which expresses the joy of filmmaking and expands the possibilities of what film can do. Director Quentin Tarantino shares his love of movies that's both homage and pop art in equal measure. And so, my #1 pick is the movie about a mid-19th century slave (Jamie Foxx) who joins forces with a German-born bounty hunter (Christoph Waltz) to capture or kill criminals, all while trying to track down and buy the freedom of the slave's wife from a cruel and charismatic plantation owner (Leonardo DiCaprio). Yeah, that's right; I ranked 'Django Unchained' higher than 'Lincoln'. Both these films offer wildly different solutions to the problem of slavery ('Lincoln' being a period piece drama whilst 'Django' operates as a bloody live-action cartoon). But even as a live action cartoon, it is a troubling and important film about slavery- what's clear is QT's disgust of slavery and sympathy for the underdog. Tarantino still remains one of the great screen writers of our time and his signature dialogue-heavy, suspense-filled set pieces are to be savored here. The script doesn't go in the directions we expect and the startling and unexpected turns this picture takes are a complete blast to watch. 'Django Unchained' was the finest moviegoing experience I had in 2012 – another incendiary masterpiece from one of the best filmmakers working today.
2. ARGO
A CIA operative heads into the middle of the Iran hostage crisis in hopes of getting six American escapees out of the country under the ruse that they're all part of a movie crew scouting Tehran for a new sci-fi flick titled 'Argo.' Ben Affleck directs and stars in 'Argo', and though he has had an inconsistent career as an actor, he has hit three home-runs with three at-bats as director. 'Argo' works as both a white knuckle thriller and as a 'Wag The Dog'-esque satire, and the balance between these two very different elements is perfect. This is a complicated film in this sense – combining elements that may seem tough to blend together. It's an international drama, and a thrilling action picture, but also a very funny Hollywood comedy. Affleck, as director, has found his calling. Each film has him increasing in scope, and 'Argo' is his most accomplished work by far. 'Argo' is a film of exceptional craft – assembling a thriller that relies on precision and timing rather than shootouts and explosions.
3. SILVER LININGS PLAYBOOK
After an eight-month stint in a psychiatric hospital, a young man (Bradley Cooper) tries to get his life back together while interacting with an equally troubled young woman (Jennifer Lawrence) he's just met. At first glance, a comedy about mental illness would seem like a difficult feat. Leave it to director David O. Russell to find the perfect tone in creating a film whose protagonist(s) suffer from bipolar disorder and depression. The casting is perfection. Jennifer Lawrence has already established herself as a gifted actress, but now she's playing a damaged character – one that is sexy, has the perfect line for any situation, but is also vulnerable. Truth be told, there hasn't been one Bradley Cooper film I've liked until now. A film like 'Silver Linings Playbook' demonstrates that an actor can be a miraculous thing in the right role. Some of his comedic antics are present here, but the role requires him to combine these elements with dramatic acting. This is also a return to form for Robert De Niro, an actor who has been suffering from "Al Pacino Syndrome" for some time. 'Silver Linings Playbook' is a master class in film acting.
4. AMOUR
Michael Haneke's latest is a heartbreaking, fully-realized portrait of love in old age. This film about an aging Parisian couple is an honest and true portrayal – in its scenes of wheelchairs, hospital beds, and frustrations of feeling hopeless. But, it also show a steadfast love earned over decades of being together: sharing births, talks about the arts, and just being there for each other for the moments both big and small. The title is French for love and I can think of no other film I have ever seen which attempts to define what love is (in such an uncompromisingly honest way). I will never forget 'Amour' – it has left a permanent mark on me.

5. LIFE OF PI
Based on the best-selling novel which was believed to be unfilmable, Ang Lee's Life Of Pi' is unlike anything I've ever seen before. Filmed in gorgeous, beautiful 3-D, this is the story of a teenager who must contend with being shipwrecked for a long time on a lifeboat where his only companion is a wild tiger from his family's zoo. The 3-D photography is beautiful – showcasing the mysteries, dangers, and wonders of the Pacific. I know the Academy voters are already set on giving the Best Actor Oscar to Daniel Day Lewis for his portrayal of the 16th President of the United States. I just hope they don't forget how they felt about Suraj Shamra's wonderful work here – this is a role that challenges body and mind and is worthy of Best Actor nomination. Ang Lee's filmmaking styles couple with Yann Martel's fable result in a remarkable cinematic experience.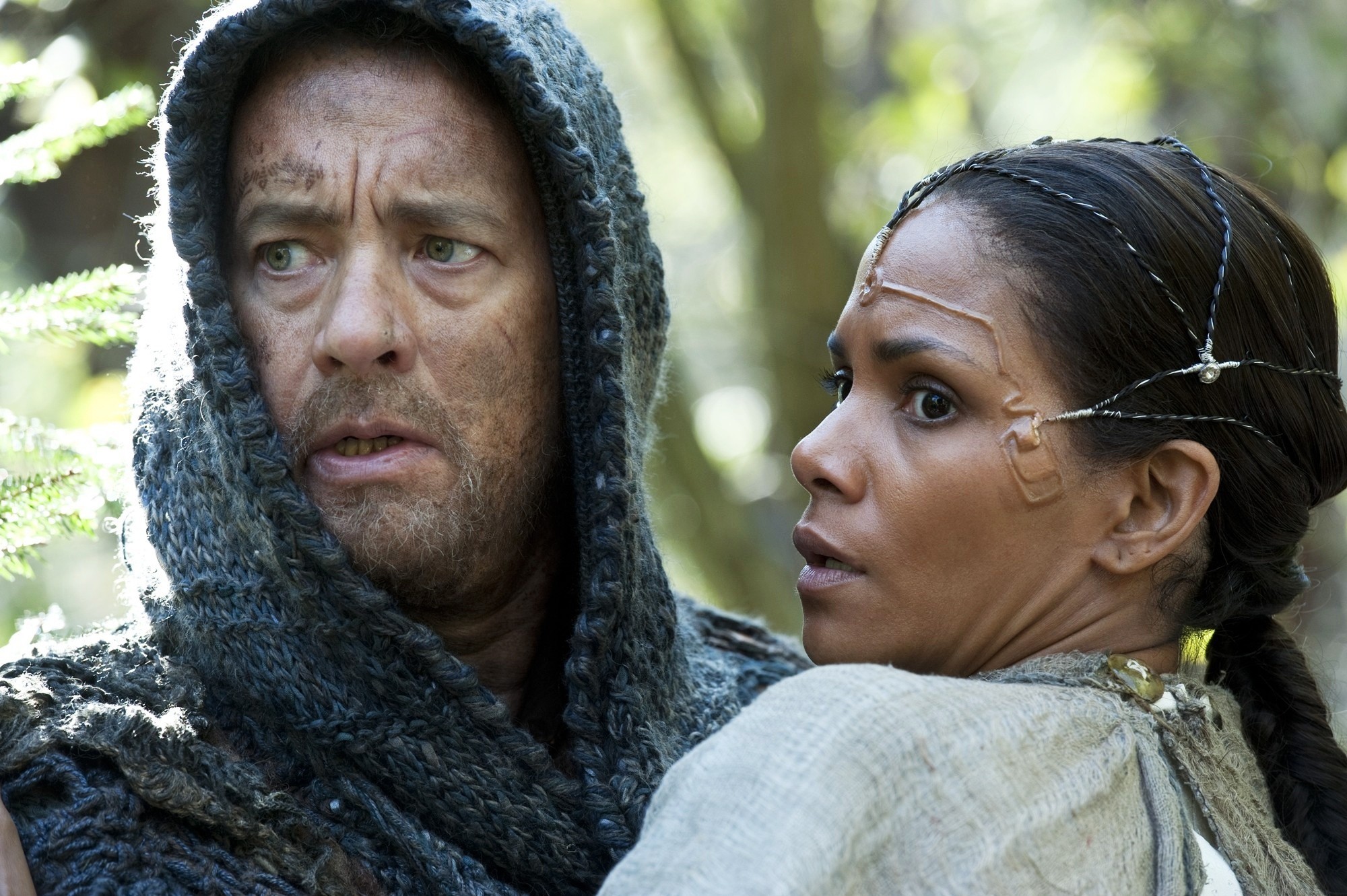 6. CLOUD ATLAS
I know I've witnessed something amazing; that I've seen a film of unbounded imagination, and fearless scope. But, I'm not entirely sure I know what it's about. 'Cloud Atlas' interweaves six interrelated stories over a span of five centuries involving a gigantic cast of A-list stars in multiple roles. Acts of love, cruelty, kindness and more appear to ripple through incarcerated souls as well as time from the past through to the present and well into the future. This is one of the most ambitious movies I've ever seen. What does all this come down to? The movie's themes about the nature of life are evident – we are bound by one another "from womb to tomb" as one character states, and when one door closes another opens. We make choices between gutlessness and bravery, cruelty and humanity, and each of these acts have consequences. I found 'Cloud Atlas' to be a magnificently bold, ambitious, gorgeously filmed epic unlike anything I have ever seen before. "Now, what the heck was that about?" Your papers will be due on Monday.

7. SEARCHING FOR SUGAR MAN
'Searching For Sugar Man' is a celebration of the goodness of an artist and his craft. How do we know he is a good person? Well, he was on the verge of stardom before fading into obscurity and at no point do we see him display any feeling of bitterness about it. The public may not have been right the first time, but then again, there is more than one public. If anyone was worthy of a second chance, it was singer-songwriter Sixto Rodriguez, and this inspiring documentary unfolds like a good mystery. Director Malik Bendjelloul follows two Cape Town fans to find out if the rumored death of Rodriguez was true; and if not, what became of him? This wasn't an easy quest – Rodriguez was a man who was only known by his music. Even his face on the album covers remained unclear. There is more than enough material here for a good musical documentary but what makes 'Searching For Sugar Man' a great movie is that Bendjelloul takes it a step further – he reminds us that second acts are possible and of what it feels like to burn bright and hopeful before disappearing. 'Searching For Sugar Man' should be a lock to win the Best Documentary Oscar this year.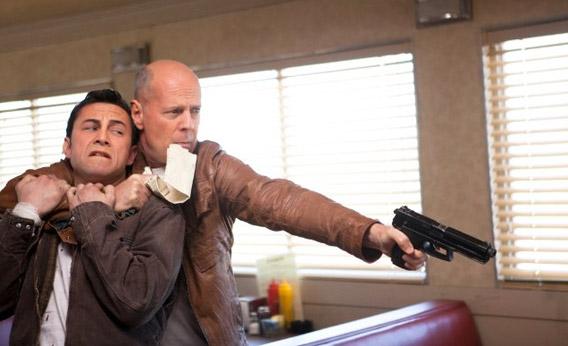 8. LOOPER
An assassin (Joseph Gordon-Levitt) who's hired to kill victims sent to him via time travel must contend with his next target (Bruce Willis) being himself from thirty years in the future. Huh? The theatrical trailer of 'Looper' makes it look like a two hour chase flick with a time travel conceit. But, that isn't what this movie about is about. The mechanics of the time travel concept is introduced early on, and then pushed into the background in favor of sinking into this milieu encompassed by characters that face some very difficult questions. Director Rian Johnson's primary focus is on the narrative. The action set pieces and special effects are simply window dressing. 'Looper' is an ambitious picture, successfully combining elements involving dystopian futuristic sci-fi, western shootouts, and even children with serious anger management and parental issues. With a great premise, sharply drawn characters, first-rate performance, and an intelligent script that meanders in the best possible way, 'Looper' is a gentle reminder that there is still original filmmaking out there.
9. END OF WATCH
Two L.A. cops, known for taking risks and bending the rules, come across heightened criminal activity they're determined to stop but that puts them in grave danger. Director David Ayer has crafted an exceptional film that combines two tired genres: the racially mismatched buddy cop movie, and the handheld found footage picture. This is Jake Gyllenhall and Michael Pena's show and they shine to the extent that I wished there was an end of the year best duo award for such work – I can't remember the last time I saw such great chemistry between two male leads. Much of the dialogue between the two felt very natural and I'm sure some of it was improv. It was great to see a movie about honest cops who work to serve and protect, and not to use their badge as excuse to get away with murder. David Ayer gives us an unforgettable, sometimes gruesomely violent and shocking ride. To say that 'End Of Watch' is one of the best police movies ever made would be a disservice – to congratulate it for clearing a fairly low bar. It deserves even better praise than that.
10. HEADHUNTERS
Directed by Morten Tyldum is based on the novel by Jo Nesbo, 'Headhunters' boasted the second biggest opening weekend in Norwegian history. This film about an accomplished headhunter who risks everything to obtain a valuable painting owned by a former mercenary is a first-rate thriller – one that doesn't depend on stunts and special effects, and instead takes delight in the turns and reveals contained within this labyrinth of impositions. Filmmakers outside of Hollywood don't have the millions of dollars to spend on CGI. What it comes down to is the basics – well developed characters and an involving story. 'Headhunters' successfully pulls the viewers into its machinery and holds them there for its duration. No hero this year has been put through the ringer like the central character here. 'Headhunters' is a film that flew under most people's radar this year. I know there is an American remake in the works, but I strongly urge you to seek this version out before Hollywood butchers it.
HONORABLE MENTIONS: Flight, The Intouchables, The Perks Of Being A Wallflower, Oslo August 31st, Rust and Bone, The Sessions, A Simple Life, Skyfall, Take This Waltz, Zero Dark Thirty
Note: A few of you have asked if I forgot about 'The Hunt' (a movie that I've been trumpeting since I saw it at TIFF in September). Not at all. It's opening in Toronto on March 2013, so it will be on my list of the best films of 2013.